Global Supplier of O-rings, Custom Molded Rubber Parts, Quad Rings and Back up Rings
Founded in 1982, Ace Seal is a Woman Owned supplier of O-rings, Rubber Seals, Gaskets, Custom Molded Rubber parts with global reach. Headquarters are located in the heart of Silicon Valley with worldwide ISO / TS 16949-2016 certified manufacturing facilities that allow us to give you the very best quality, price, and lead-time available in the industry.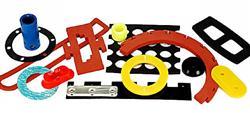 Ace Seal continuously upgrades tooling and process technologies to insure that we are one of the world leaders in manufacturing of O-Rings, Rubber Seals and Molded Rubber Parts. Our single and multi-cavity tooling produces parts designed to your exact tight tolerances that can be molded from commercial or ASTM/MIL compounds. Our low cost tooling and quick turnaround satisfies the most demanding engineering and manufacturing teams and is a reason we are a top global o-ring supplier. Whether you need small quantities or high volume production runs, call Ace Seal for your custom molded rubber & plastic components.
Standard & Custom O-Ring Supplier and Manfacturer
At Ace Seal our O-Rings are available in both U.S. and Metric sizes. We offer O-Rings and other seals in Nitrile, Viton, Silicone, Ethylene Propylene, Teflon and several other materials. We specialize in Spliced & Vulcanized o-rings with a quick turnaround time. Our close tolerances and exact specifications make Ace Seal a truly reliable o-ring supplier for all your sealing needs.
Ace Seal also provides Die Cut, Laser Cut and Water Jet cut gaskets and components to numerous industries.
Our large inventory at Ace Seal allows us to stock and offer our customers a wide variety of rubber seals that are readily available the same day. Ace Seal's expertise allows us to service aerospace, semiconductor, medical, military, industrial (OEM), food processing, electronics, solar industries and many others.
Our mission is to provide our customers the BEST CUSTOMER SERVICE in the industry.
Contact Ace Seal for more information on o-ring products or request a quote today to get your project moving!

We stock a wide variety of seals that are available the same day
Contact an Expert