Whiskey Barrel Bungs
Barrel bungs are stoppers used for closing whiskey, bourbon or scotch barrels. Ace Seal's unique design allows a tight seal, while also being easy to remove.
Made from silicone, the bourbon barrel bungs from Ace Seal are FDA-approved and provide the durability and ease of use that your distillery applications need.
Whiskey Barrel Bung Product Options:
Features of Whiskey Barrel Stoppers
Our whiskey barrel bungs are easy to hammer in, but still fit snug inside the barrel, preventing any leaks. They are designed with a lip that creates a tight seal and prevents the bung from falling inside, even as the bourbon barrels are rolled around.
Our bourbon barrel bungs also provide:
Malleability
Durability
Custom colors and sizes
A wide range of style options
Why Choose Silicone Bourbon Barrel Bungs?
Our whiskey barrel bungs are made from silicone, instead of the traditional wood. By using silicone, our stoppers are not only easy to remove, but they can be reused over and over without any loss in sealing power. Silicone is also a non-reactive, stable material, so our stoppers can withstand the high levels of ABV that bourbon and other whiskeys can reach during maturation.
Custom and Standard Whiskey Barrel Bungs from Ace Seal
Our standard bourbon barrel bungs are manufactured in a translucent white color, but we also offer custom sizes, colors, and printed designs, depending on your application. We also provide a variety of styles to meet your sealing needs.
Our whiskey barrel bung options include:

Solid Bourbon Barrel Bung with Top Grip Lip: This standard, FDA-approved bung uses a top grip lip to make removal even easier.
Hollow Bourbon Barrel Bung with Top Grip Lip: These bourbon barrel bungs are hollow, making them lighter and more flexible.
Standard Bourbon Bung with 3/8" Thru-Hole: This whiskey barrel bung features a 3/8" hole that allows for tubes or other implements to be installed, while still maintaining a tight seal.
Contact Ace Seal for Whiskey Barrel Accessories
Ace Seal manufactures high quality, durable whiskey, bourbon and scotch barrel bungs for your distilling applications. Made from the highest quality, food-grade materials, our bourbon barrel bungs are designed for durability and longevity.
To learn more about our scotch, bourbon barrel bungs and whiskey barrel accessories, contact us today or request a quote.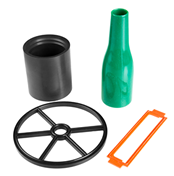 We stock a wide variety of seals that are available the same day
Contact an Expert