Seltzer, Cider and Beer Barrel Bungs
Selecting the right barrel or vessel is only part of the formula for a successful brew. You also need barrel bungs and stoppers designed to create the ideal environment fermentation and brewing.
Barrel Bung Product Options:
Find your style below to order beer and hard cider barrel stoppers in bulk or submit a quote request for customization. All our in-stock barrel bungs and plugs come in translucent white unless otherwise shown. Save even more when you order in bulk!
Wholesale Beer Barrel Bungs and Stoppers for Fermentation and Brewing
Ace Seal offers wholesale silicone Beer Barrel Plugs, Hard Cider Barrel Plugs, and Hard Seltzer Barrel Plugs in the style and size you need. We only use 100% FDA grade silicone to prevent warping, discoloration, and other issues associated with cork or wood stoppers. Silicone also lasts is to 4x longer than rubber, making it a more cost-effective solution.
Advantages of choosing silicone barrel bungs and stoppers from Ace Seal:
Tapered design fits most U.S. and French barrels
Silicone does not mold or retain odors
Non-porous material is easy to clean and sanitize
Achieve premium sealing, even with slightly warped barrel bung holes
Top-grip lip styles for effortless insertion and removal
Thru-hole styles allow the insertion of plastic or glass tubing
Beer and Cider Barrel Plugs for Each Stage of Production
Our high-quality wholesale silicone barrel bungs withstand high temperatures and multiple uses. We manufacture all our stoppers to fit standard barrels and offer several styles to accommodate each stage of the brewing and storage process.
Silicone Fermentation Bungs
Get proper ventilation while preventing oxidation and contaminants from ruining your brew. Our silicone fermentation bungs have a two-piece design that keeps the fermentation lock in the barrel until you're ready to release the pressure.
Solid Barrel Bung Plugs
Use these standard beer, cider, and seltzer barrel stoppers to plug oak barrels or tank lids. The tapered design creates a secure seal that keeps contaminants out and freshness in.
Solid Barrel Bungs with Top Grip Lip
We added a top-grip lip to our standard solid barrel bungs for easier insertion and removal. These beer barrel stoppers feature a tapered design for sealing almost any fermentation barrel or lid.
Standard Bungs & Stoppers with 3/8 Thru-Hole
Thru-hole style beer barrel bungs and stoppers are designed for use with airlock devices. Select from bungs with or without a top grip lip based on your needs.
Hollow Barrel Stoppers & Bungs
These cider, beer, and seltzer barrel bungs have a hollow center, making them more lightweight and flexible than our solid plugs.
Hollow Barrel Bungs with Top Grip Lip
The addition of a top grip lip makes these barrel bungs even easier to insert and remove than our standard style. This design also helps prevent the plug from falling into your barrel.
Get Your Quote for Bulk Beer, Seltzer, and Cider Barrel Plugs
Ace Seal manufactures high-quality sealing products for beweries. As an expert in all things sealing, we know how to produce high-quality, long-lasting barrel plugs that meet your needs. Build your quote online or contact us to start a conversation about custom silicone barrel stoppers.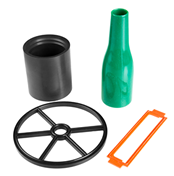 We stock a wide variety of seals that are available the same day
Contact an Expert