Custom Molding Services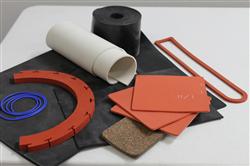 Ace Seal specializes in molding plastic and rubber parts and components for applications across all industries. A focus on everything from small volume requests to high volume production runs means we can handle virtually any project. Why work with multiple vendors when you can count on a single source for all your rubber and plastic molded parts and components?
High-Quality Molded Components Made to Your Specifications
Working with ISO/TS 16949-2016 certified manufacturing facilities ensures quality through each stage of production. We use single and multi-cavity tooling to achieve the tight tolerances and exact dimensions you need, even in complex designs. Our service team also works to keep tooling and molding costs low to meet your budget without sacrificing quality. From aerospace to consumer applications, we produce an array of custom molded parts and components, including:
Seals
O-rings
Gaskets
Barrel bungs
Plugs
Any other sealing parts and components you need!
Rubber & Plastic Molding Services
Not everyone knows which molding process they need, which is why we're here to help. After design submittal, we consult our team of experts to determine the best molding process for your application. Ace Seal can also help you decide whether thermoplastic or rubber elastomers would perform best in the intended application.
Learn more about our custom rubber and plastic molding services, along with molding options and materials we offer, by exploring the categories below.
Custom Rubber Molding
Rubber molded components provide durability, flexibility, chemical resistance, and versatility for a range of applications. We work with various raw rubbers and elastomers to achieve the properties needed for your product. Our custom rubber molding services include:
Rubber Compression Molding
Custom Plastic Molding
Plastic molded components harden after molding to form strong, lightweight parts with excellent wear resistance. We recommend custom plastic molding for high volume runs and intricate designs. Our custom plastic molding services include:
Plastic & Rubber Injection Molding
Plastic Overmolding
Standard and High-Performance Molding Materials
There is no "one material fits all" solution for plastic and rubber molding. We work with various types of standard and high-performance rubber elastomers and thermoplastics to meet your requirements for strength, wear resistance, temperature resistance, and chemical resistance. Whether you need a standard material or ASTM or MIL-SPEC compounds, we have a solution that meets your exact needs.
Contact Us to Discuss Your Custom Molding Requirements
For decades, customers have trusted Ace Seal for high-quality rubber molded parts and components. Contact our team to discuss your specifications and learn more about our rubber and plastic molding services.

We stock a wide variety of seals that are available the same day
Contact an Expert