Viton® O-Rings, Gaskets & Seals
Ace Seal offers fluorocarbon o-rings, seals, and gaskets manufactured from Viton®. We can provide Viton® o-rings, seals, and gaskets in all standard sizes, as well as in custom configurations to meet the specific needs of your application, including FDA, NSF, and 3A requirements.
Order your AS568 standard O-rings today, or contact us to discuss your custom requirements.
Viton® O-Ring Products
We manufacture Viton® Gaskets, O-Rings and Seals Using a Variety of Common Resins:
Characteristics of Viton® O-Rings, Seals & Gaskets
Temperature range: -20°F to 400°F (-29°C to 204°C)
Standard hardness: 70-75 Shore A
Hardness range: 50-95
Standard colors: black, brown
Viton® Chemical Compatibility & Characteristics
If Viton® is not compatible with your application, view our chemical compatibility chart to find the right material for your specific needs.
Acid resistance: Excellent
Flame resistance: Excellent
Heat resistance: Excellent
Oil resistance: Excellent
Ozone resistance: Excellent
Weather resistance: Excellent
Dynamic resistance: Good to excellent
Set resistance: Good to excellent
Tensile strength: Good to excellent
Abrasion resistance: Good
Chemical resistance: Good
Impermeability: Good
Tear resistance: Fair to good
Water steam resistance: Fair to good
Cold resistance: Fair
Electrical properties: Fair
Viton® Fluorocarbon Options
We work with a variety of Viton® material options. The Viton® family of fluorocarbon materials is comprised of copolymers of HFP (hexafluoropropylene) and VDF or VF2 (vinylidene fluoride); terpolymers of TFE (tetrafluoroethylene), VDF (vinylidene fluoride), and HFP (hexafluoropropylene); and PMVE (perfluoromethylvinylether) containing specialty additives. Most grades of Viton® include 66-70% fluorine content.
A (Dipolymers of VF2/HFP)
Type A Viton® polymers are used for general purpose o-rings, gaskets, and seals, including automotive and aerospace applications. These materials feature 66% fluorine content.
B (Terpolymers of VF2/HFP/TFE)
Type B Viton® polymers are formulated for use in chemical processing plants, power/utility applications, and the like. These materials include 68% fluorine content.
F (Terpolymers of VF2/HFP/TFE)
Type F Viton® o-rings, seals, and gaskets are highly resistant to oxygenated automotive fuels, concentrated aqueous inorganic acids, water, and steam. Fluorine content of these materials is roughly 70%.
Specialty Viton® Materials
Specialized types of Viton® include GLT, GBLT, GFLT, and Viton® extreme (copolymers of TFE/propylene and ethylene/TFE/PMVE). These materials are ideal for automotive applications, oil exploration, special sealing requirements, and ultra-harsh environments.
Custom Viton® Approvals
Utilizing specialty compounds and processes, Ace Seal can provide Viton® o-rings, etc., to meet the following specifications:
FDA
Class IV
UL
Mil-Spec
3/A
High Temperature Viton® Gaskets from Ace Seal
Gaskets made from Viton® are highly resistant to heat, oils, and chemicals, making them well-suited to harsh environments. Due to their fuel resistance and low burning characteristics, these gaskets are a common fixture amongst aerospace, automotive, appliance, liquid, gas, and chemical applications. With FDA grades of this material now readily available, Viton® gaskets are also frequently used throughout the food processing and pharmaceutical industries.
As a leading manufacturer of custom gaskets, Ace Seal can provide you with the heat resistant Viton® gaskets you need. Contact us today to get started.
Contact Us for Viton® O-Rings, Gaskets & Seals
If you need Viton® o-rings, gaskets, or seals in standard or custom configurations, look no further than Ace Seal. Request a quote today or contact us for more information on Viton® fluorocarbon materials.
Viton® is a registered trademark of The Chemours Company.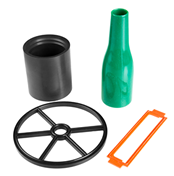 We stock a wide variety of seals that are available the same day
Contact an Expert