Rubber Products
There is a growing need for custom molded components based on application specific requirements. Ace Seal offers custom rubber and plastic components that provide exact fitments to prints and specifications.
Contact us for more information regarding our custom plastic and rubber products, or call us at 800-223-7325 and we will gladly answer any questions that you may have. Ace Seal is your trusted source for advanced precision custom rubber and plastic components.
At Ace Seal, we work with customers from design stage to production to ensure the very best quality component. Our custom seals, molded rubber and plastic components manufactured by Ace Seal will meet or exceed your exact specifications. Whether you need a prototype run or high-volume production, we offer single or multi-cavity tooling with competitive tooling costs.
Ace Seal utilizes state-of-the-art manufacturing equipment that allows us to offer quality rubber gaskets with quick turnaround and little to no tooling charges for most designs. Using customers' specifications, we can supply rubber gaskets in any size and shape, to meet the requirements of any application.
Ace Seal's extruded rubber products can be manufactured to customer specifications for a wide variety of applications. We offer custom rubber components and extruded rubber profiles in numerous materials including Nitrile, EPDM, Viton, Neoprene, Silicone, and many others!
Contact Ace Seal for Custom Plastic and Rubber Products Today
Contact us for more information regarding our custom rubber and plastic product options, or request a quote for further pricing details today. Ace Seal is your premier resource for custom seal products.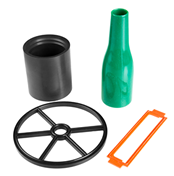 We stock a wide variety of seals that are available the same day
Contact an Expert