Quad Rings & X-Rings
If you're looking for standard or specialized quad rings or X-rings, look no further than Ace Seal. We manufacture quad rings and X-rings in sizes, materials, and durometers to accommodate your unique application.
To get started on the quad ring seals or X-ring seals you need, use the filters below to find the I.D., O.D., and cross section (CS) dimensions you need. Then, follow the link to specify the material and hardness your project requires and request a custom quote.
As the proven experts in quad ring and X-ring manufacturing, we can deliver standard and specialized products to fit your performance requirements. We can provide quad rings and X-rings to seal nearly any application.
Request a quote on the quad rings or X-rings you need, or contact us to discuss your specifications.
Quad Ring Seals & X-Ring Seals for All Applications
Ace Seal can manufacture quad rings and X-rings in the size, profile, material, and durometer you need. However, please note that not every combination of these factors is possible—certain materials are not available in certain durometers, etc.
Send us your quad ring and/or X-ring specifications and we will get back to you ASAP with a custom quote.
Quad Ring & X-Ring Elastomer Options
Aflas
Buna/Nitrile
Butyl
Chemraz
Ethylene-propylene
Fluorosilicone
Kalrez
Neoprene/chloroprene
Polyurethane
Silicone
Viton/fluorocarbon
Quad Ring & X-Ring Durometer Options
30
40
50
55
60
65
70
75
80
90
Quad Ring & X-Ring Color Options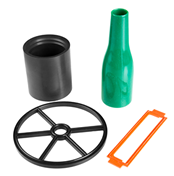 We stock a wide variety of seals that are available the same day
Contact an Expert