O-Ring Materials
O-rings are mechanical gaskets with a round cross section. They are used to prevent gas and fluid leaks in static and dynamic applications and are manufactured from various types of elastomers. Some of the common types of O-ring materials include PTFE, Nitrile (Buna), Neoprene, EPDM Rubber and Fluorocarbon (Viton). Silicone and Kalrez® O-ring materials are also widely used, especially in high temperature applications.
Contact us for more information about our O-ring materials or request a quote on your custom application today.
We Offer O-ring Materials in Custom and Industry Standard Sizes
Ace Seal provides O-rings in standard and metric sizes and different material options to meet your application requirements. Our industry standard O-ring material sizes vary depending on the type of O-ring product selected. Custom sizes, profiles, materials and durometers are also available upon request.
O-ring Materials for Static and Dynamic Sealing Applications
Ace Seal offers a broad range of O-ring materials in different colors and sizes to meet your sealing application requirements. We provide O-rings for industries ranging from oil and gas to aerospace and offer both standard and custom options. Learn more about our various types of O-ring material below or contact us to discuss customization options.
What is the O-ring Material Selection Process?
There are numerous types of O-ring materials available and each offers different features and benefits. Some materials perform well in chemical or high heat applications where others may deteriorate under harsh operating conditions. Even the specific type of oils or chemicals being used in your application determine O-ring material compatibility. Abrasion and tear resistance may also be of importance, especially in dynamic applications or when abrasive substances are involved.
Primary considerations for O-ring material selection include chemical compatibility, application temperature compatibility, sealing pressure, durometer, size and cost. Depending on the application, factors such as electrical properties, dynamic resistance, tear resistance and ozone resistance should also be considered. Taking all these parameters into consideration will help you determine which O-ring material choice is best suited for your application.
View the Common O-Ring Materials PDF for an overview of material specifications. Our Material Properties Comparison Chart also provides useful information on chemical resistance, heat resistance and other factors that aid in the O-ring material selection process.
Contact Us to Discuss Your O-Ring Material and Size Requirements
Ace Seal provides various O-ring material sizes and types to meet the needs of any sealing application. Request a quote for the O-ring material that meets your operating requirements or contact us for assistance.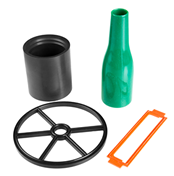 We stock a wide variety of seals that are available the same day
Contact an Expert