O-Ring Materials
O-ring selection is based on chemical compatibility, application temperature, sealing pressure, durometer, size and cost. These parameters will determine the best suited material for an application. O-rings are available in several different materials such as PTFE, Nitrile (Buna), Neoprene, EPDM Rubber and Fluorocarbon (Viton). Kalrez ® o-rings and Silicone seals are also widely used high temperature applications.
Contact Us for Your O-Ring Material Application Requirements
Contact Ace Seal for more information or request a quote on your custom application today.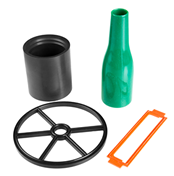 We stock a wide variety of seals that are available the same day
Contact Us