Custom & Standard Metric O-Rings
Metric o-rings are mechanical, torus-shaped gasket that is designed to fit inside a notch or groove and create a seal, blocking liquids or gasses from entering or escaping. When pressure rises, the o-ring moves toward the low pressure, expanding the seal. When there is little to no pressure, the seal has a memory and returns to its original state.
Different from a gasket, a metric o ring has thick, round edges and is molded to fit a specific profile. They are commonly used for higher pressure applications than gaskets as well, and are found in places like fuel systems, hydraulic seals, and pipe joints. They are the most common seals used in machine design because they are inexpensive and reliable.
Contact Ace Seal Today for Your Metric O-Ring Seals
Ace Seal has extensive o-ring manufacturing capabilities, including a comprehensive selection of sizes and elastomers to meet any sealing requirements. We can deliver the perfect metric o-rings for your specific application.
If you need metric o-rings in standard sizes and with specialty materials, durometers, and/or colors, look no further than Ace Seal. We manufacture customized metric rubber o-rings to meet your application and performance requirements.
To get started, use the filters below to find the "standard" metric o-ring you need, defined by inside diameter (ID) and cross section. Then, click on the applicable link to specify your material, hardness, and color you need and request a custom quote.
Request a quote on custom metric o-rings, or contact us discuss your unique needs.
Measuring Metric O-Rings
There are two main o-ring sizing styles: standard and metric. Metric o rings sizes are primarily used internationally, notably in Europe and Japan. The metric sizes are based on the International Standard ISO 3601-1:2002. Metric o-ring measurements are grouped into two series: G and A. Each has a different application. The G series is used for general purpose applications, while the A series is for Aerospace applications.
O-ring seals measurements are based on their diameters. The inside diameter is found by measuring one inner edge to another. The outside diameter is also found by measuring one outer edge to the other side. The final measurement that is found is the cross-section, which is found using both the outside and inside diameter.
The metric o-ring material can be measured using durometers, or the hardness of the plastic. This test measures the resistance of plastics toward indentation and provide an empirical hardness value. Different scares are used for different kinds of plastics. For softer plastics, Shore A scale is used, and Shore D scale is used for harder plastics.
Custom Metric O-Rings for All Applications
Ace Seal can provide custom o-rings in a broad range of metric sizes and cross sections, with the material, durometer, and color your project requires. However, please note that not all combinations of these factors are possible—certain colors are not available in certain durometers, certain materials are not available in certain colors, etc.
We also offer custom AS568 o-rings, Parker 500 Series and 800 Series o-rings, back-up rings, and quad rings.
Metric O-Ring Elastomer Options
Aflas
Nitrile (Buna N)
Butyl
Ethylene-propylene
Kalrez®
PTFE
PTFE-encapsulated
Silicone
Fluorocarbon (Viton®)
Metric O-Ring Durometer Options
50
60
70
75
90
Custom hardness's also available
Metric O-Ring Color Options
Black
Brown
Rust/orange
Translucent/clear
Custom colors also available
Request a quote on custom metric o-rings, or contact us discuss your unique needs.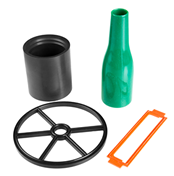 We stock a wide variety of seals that are available the same day
Contact Us