Custom O-Ring Seals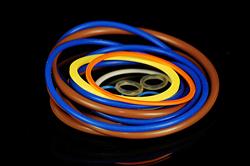 O-ring seals are mechanical gaskets with a round cross-section. They are made from elastomer materials and used in pumps, cylinders, and other fluid applications to form a leak-proof seal between two parts. O-rings are installed into a machined or molded groove on a part surface; when the two parts are joined, it compresses the O-ring and deforms the cross-section, creating a tight seal.
Rubber O-Ring Options
We carry a wide selection of rubber o-ring products, including:
Standard and Custom O-Ring Products for Any Application
Ace Seal maintains a vast inventory of standard O-ring seals in English and Metric sizes and offers a variety of elastomer options to meet industrial and regulatory standards. We serve several markets, including aerospace, biotechnology, gas & oil, medical, military, semiconductor, solar, and several others.
If you are unsure of which material is best for your application, view our Properties Comparison Chart for information about some of the most commonly used O-ring materials or contact us for assistance.
Our Elastomers Include:
O-ring products can be used across a broad range of operating temperatures and in low- or high-pressure applications. There are several advantages to using O-rings, including:
Lightweight
Compact design
Easy to install and maintain
Cost-effective
Reusable (depending on material and application)
When appropriately used, O-rings do not require adjusting and have a long usable life. Factors that contribute to O-ring failure include improper installation, inadequate lubrication, abrasion, using the incorrect size or elastomer, or allowing for too much or too little compression in the gland design. You can prevent these any other issues by selecting the right size and durometer, and material that is compatible with your application temperature, fluid/chemical type, and sealing pressure.
Our team has the expertise to help you select the right product design, size, and elastomer for your application. Learn more about our inventory of O-ring products below or contact us to discuss your unique sealing requirements.
AS568 O-Rings
We manufacture standard and custom AS568 O-ring seals using a broad range of elastomers to meet your temperature and operating requirements. Standard dimensions range from 1/32" to 26" ID with cross-sections ranging from 1/16" to 1/4". View our size chart for complete sizing information.
Boss 900 Series O-Rings
Options for Boss 900 Series O-ring products include industry-standard sizes ranging from 0.185" to 2.337" ID with cross-sections ranging from 0.056" to 0.118". Durometers range from 40 to 90. Select from a wide variety of high-performance material options and colors, including black, brown, orange, translucent, white, and blue.
Parker 800 Series O-Rings
Parker 800 Series backup O-rings are offered in several models with an ID ranging from 0.077" to 26.004" and cross-section diameters from 0.053" to 0.236". Select from a durometer of 55 or 90. Elastomer options include white PTFE and black Buna/Nitrile.
Parker 500 Series O-Rings
We manufacture Parker 500 Series O-rings in different models with an ID ranging from 0.059" to 28.801" and cross-sections measuring from 0.0197" to 0.375". Select from several material options and durometers from 40 to 90. Offered in standard amber, black, blue, brown, rust/orange, translucent and white colors with custom colors also available.
Quad Rings & X-Rings
Ace Seal stocks Quad rings and X-rings in standard Buna/Nitrile 70 durometer black. Quad rings and X-rings are also available in numerous elastomer options in either black, blue, or rust/orange. Durometers range from 30 to 90 and cross-section dimensions range from 1/16" to 1/4". ID sizes range from 1/32" to 26".
Metric O-Rings
We offer O-ring products in standard metric sizes based on International Standard ISO 3601-1:2002 and custom metric O-rings in a broad range of sizes and cross-sections. Our metric O-ring seals are available in various elastomers to meet a variety of operating requirements and temperatures up to 450°F (232°C). Durometer options range from 40 to 90, with custom hardness also available. Colors include black, brown, rust/orange, translucent, and custom.
Spliced & Vulcanized O-Rings
Spliced O-ring seals are an excellent alternative for applications where a standard O-ring cannot be used. Our spliced O-rings are made from an extruded cord that is vulcanized to form a seamless joint. We produce spliced and vulcanized O-ring seals in English or Metric sizes, including custom IDs, and in several elastomers.
EMI-Shielded O-Rings & Seals
Combine the benefits of sealing and shielding with our EMI-shielded O-ring products, including seals, O-rings, and molded parts. These seals are made with conductive, particle-filled elastomers and ideal for electronics applications.
O-Ring Cord
We provide O-ring cord in bulk or spliced and vulcanized into custom O-ring seals. Options include standard round cord, quad/x-ring cord, and square cord.
O-Ring Kits
Our O-ring seal kits include a convenient plastic storage case filled with the most popular sizes in the industry. We provide kits in virtually any material.
#1 Custom O-Ring Manufacturer
Ace Seal manufactures a wide variety of O-ring seals in standard sizes and materials with custom options available upon request. Contact us to learn more about our O-ring options or request a quote for the products that meet your sealing requirements.

We stock a wide variety of seals that are available the same day
Contact an Expert