EMI-Shielded O-Rings & Seals
EMI o-rings, seals, and molded rubber parts provide high effectiveness in an environmental or pressure seal, allowing for sealing and shielding in one. EMI O-rings and rubber extrusions are made with conductive, particle-filled elastomers for a variety of electronic applications.
Contact Ace Seal for EMI-Shielded O-Rings & Seals
Contact us or request a quote for more information about our EMI-Shielded O-Ring & Seal capabilities.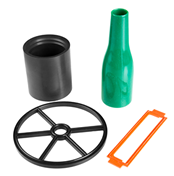 We stock a wide variety of seals that are available the same day
Contact an Expert