Custom Rubber Extrusions
Ace Seal offers a wide variety of superior quality rubber extrusions. These include custom extruded profiles to your specifications in continuous lengths or cut to required lengths. We can manufacture solid rubber extrusions and sponge extrusions in FDA approved compounds, military specified materials, UL listed compounds, and adhesive backed extrusions, just to name a few.
Additionally, Ace Seal can supply extruded rubber products on reels for your process carrier in a wide variety of colors, durometers, and sizes. We offer custom rubber parts and extruded rubber profiles in numerous materials including Nitrile, EPDM, Viton, Neoprene, Silicone, and many others!
Our Extruded Rubber Products can be manufactured to customer specifications for a wide variety of applications.
Contact Ace Seal for Custom Rubber Extrusions
Contact us or request a quote today for more information on custom extruded rubber products.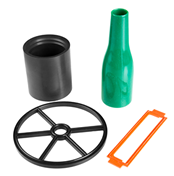 We stock a wide variety of seals that are available the same day
Contact an Expert