Custom Rubber Extrusions
Custom Rubber Extrusions
With benefits including cost-efficiency and variety of profile options, Ace Seal offers a wide variety of high-performance rubber extrusions. These include custom extruded profiles to your specifications in continuous lengths or cut to required lengths. We can manufacture solid rubber extrusions and sponge extrusions in FDA approved compounds, military specified materials, UL listed compounds, just to name a few.
Rubber extrusions go through a process by which a rubber compound is fed into an extruder where pressure and temperature are applied as the material is fed through the die. Material expansion can occur through this process which largely depends on the material chosen for extrusion.
Custom Rubber Extrusion Materials
Ace Seal can supply extruded rubber products on reels for your process carrier in a wide variety of colors, durometers, and sizes. We offer custom rubber parts and extruded rubber profiles in numerous materials including:
Nitrile Custom Extruded Parts: Also known as Buna-N, nitrile offers excellent oil resistance ideal for automotive or aerospace applications.
EPDM Custom Extruded Parts: EPDM offers exceptional heat resistance and chemical resistance. Its versatility is often used in medical devices, household appliances, and applications that require weather resistance.
FKM / Viton® Custom Extruded Parts: Also known as fluorocarbon, Viton® custom rubber extrusions are resistant to acid, heat, oil, and weather. Due to its durability, it is often used in automotive applications or chemical processing.
Neoprene Custom Extruded Parts: Neoprene is well suited for applications that require weather resistance along with heat and abrasion resistance. It is ideal for sealing applications including refrigeration and air conditioning.
Silicone Custom Extruded Parts: Extremely versatile, silicone offers heat, cold, ozone, and fungal resistance. It is used in a wide range of applications including medical devices, food storage, electronics, and more.
Additional custom rubber extrusion materials include Alfas®, Kalrez®, Chemraz®, Butyl, PTFE, Natural Rubber and more.
Rubber Extrusion Shapes
Our custom rubber extrusion capabilities include manufacturing rubber shapes and profiles, specifically for your application needs. Some of the profiles we create include:
U-Channel Custom Rubber Extrusions
L-Strip Customer Rubber Extrusions
T-Shape Custom Rubber Extrusions
D-Shape Custom Rubber Extrusions
C-Shape Custom Rubber Extrusions
P-Strip Custom Rubber Extrusions
H-Channel Custom Rubber Extrusions
E-Channel Custom Rubber Extrusions
Custom Rubber Extrusions Applications
Our Extruded Rubber Products can be manufactured to customer specifications for a wide variety of applications, including:
Aerospace
Agricultural
Appliances
Automotive
Electronics
Fuel and Gas
Food Processing
HVAC
Medical Devices
Plumbing
Pumps
Solar
Transportation
Valves
Ace Seal Custom Rubber Extrusion Advantages
Ace Seal provides best-in-class lead-times, price, and high-performance quality for all custom rubber extrusion projects. Our expertise includes designing custom rubber extrusions tailored to meet tight tolerances molded specifically for ASTM or Mil Spec components.
We work with a vast array of industries, providing custom rubber extrusions that meet industry-specific specifications and exceed customer expectations.
Order Your Custom Rubber Extrusions Today
Decades of experience have provided Ace Seal the custom rubber extrusion knowledge needed for producing high-performance, high-quality rubber extrusion parts and products. Contact us or request a quote for more information on our custom extruded rubber products.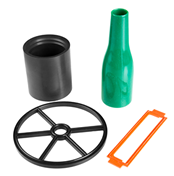 We stock a wide variety of seals that are available the same day
Contact an Expert