Custom Laser Gaskets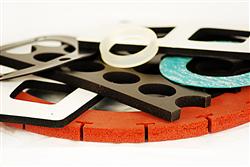 Laser cutting is the process of using a high-powered laser to cut out precise shapes from a broad range of rubber and silicone materials. When it comes to custom gasket production, laser cutting provides superior flexibility, accuracy, repeatability, and speed. Between the wide range of material options available and the ability to create complex geometries with high tolerances, laser cutting is an ideal process for a variety of custom gasket requirements.
When precision design and fast production are a priority, Ace Seal provides the high quality, custom laser cutting services you need to get the job done. Since 1982, Ace Seal has been a worldwide leader in sealing solutions for a vast range of industries. Contact us to begin discussing your custom laser cut gasket project today!
Custom Laser Cutting Process
Laser cutting is a thermal process in which a laser beam is used to cut material in a specified area. This process uses CAD programming to create a path for the laser to follow, resulting in highly repeatable, precision gasket designs. With years of experience producing high quality laser cut gaskets, Ace Seal can work with your unique specs to meet all volume, tolerance, and turnaround requirements.
Die Cut Gaskets vs Laser Cut Gaskets
Laser cutting and die cutting are two of the most popular manufacturing processes used to create custom gasket components. The best process for your project will depend on your unique priorities.
Since laser cutting machines operate directly from a CAD file, they have the advantage of both material and design flexibility. For example, laser cutting can produce shapes with an accuracy of +/- .002", without any tooling required. Die cutting, in contrast, usually does require tooling and cannot as easily accommodate harder materials or larger, more complex parts. When it comes to scale of production, however, die casting is much better suited to higher quantities than laser cutting.
Learn more about our custom manufacturing capabilities here. Contact us for help determining the best process for your custom gasket needs.
Material Options for Rubber Laser Cut Gaskets
Laser cut gaskets can be fabricated from a wide variety of rubber and silicone materials, usually from a sheet or roll. While laser cutting is compatible with nearly any rubber material, the best material for your application will depend on a variety of factors, including lifespan expectancy, chemical compatibility, environmental conditions, temperature tolerances, pressure resistance, and more. We can create laser cut gaskets from:
Nitrile
Butyl
Neoprene
Ethylene-Propylene
Flourocarbon (Viton®)
Polyurethane
Silicone
Elastomers
Cork
And much, much more.
Not sure which material is best suited to your industry or application? The experts at Ace Seal are here to help. We can help you zero in on the most ideal rubber elastomers based on your custom gasket application. Reference our comparison chart to discover the strengths and limitations of our most popular material options.
Laser Cutting Services for Any Industry
Gaskets are used to protect against leakage, dampen noise, and reduce vibration in a wide variety of applications. Industries that commonly utilize gaskets include:
Plumbing
Agriculture and irrigation
Electrical and electronic devices
Ace Seal produces gaskets and other sealing components designed to meet the regulations required by your industry. We maintain all necessary certifications, including RoHS, FDA, UL, and more.
Contact Ace Seal for Custom Laser Cut Gaskets & More
No matter your industry or laser-cut gasket specifications, Ace Seal has the experience, knowledge, and services to create most custom gaskets and other custom rubber products.
Contact us today to learn more or request a quote to get started.

We stock a wide variety of seals that are available the same day
Contact an Expert