Plastic Products
There is a growing need for custom molded components based on application specific requirements. Ace Seal offers custom rubber and plastic components that provide exact fitments to prints and specifications.
Contact us for more information regarding our custom plastic and rubber products, or call us at 800-223-7325 and we will gladly answer any questions that you may have. Ace Seal is your trusted source for advanced precision custom rubber and plastic components.
Ace Seal utilizes a wide range of plastic materials to fabricate custom plastic components for your custom application needs. Each material provides different advantages and should be chosen based on your unique application requirements. Ace Seal is a global manufacturer of custom molded plastic components.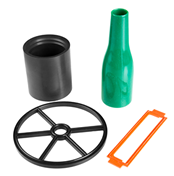 We stock a wide variety of seals that are available the same day
Contact an Expert