Seal and O-Ring Related Products
Seal and o-ring related products, like tri-clamp gaskets or wine barrel bungs, are useful for unique sealing applications in industries like food & beverage, biotech, and dairy. Each product provides superior sealing and durability.
Ace Seal is a global manufacturer of custom o-rings, seals, gaskets, and other molded rubber & plastic components. We offer a variety of seal and o-ring products to meet your needs.
O-rings are circular, mechanical gaskets that are common in many machine designs. They are used to seal pipes, tubes, and other mechanisms, preventing leaks and protecting the equipment from fluids. Ace Seal provides O-ring kits to meet your application needs.
O-ring kits come with the most popular o-ring sizes and can be made in any material. All of the o-rings are stored inside a plastic storage case for your convenience, making them an ideal way to protect all of your equipment.
Tri-clamp gaskets are sanitary gaskets that are used in a variety of industries, like food & beverage, pharmaceutical, essential oil extraction, and biotech. They seal clamp connections in sanitary pipe lines, ensuring protection from fluids that would contaminate products.
With a tri-clamp ferrule, pipe coupling and clamp, our tri-clamp gaskets are designed for simple installation and to withstand harsh environments. They provide good elasticity, as well as good sealing duration. As a rubber ring manufacturer, our tri-clamp gaskets provide the protection that you require for all of your trying conditions,
Wine barrel bungs are stoppers that are designed to close the opening in a wine barrel. They are partially inserted so they don't project into the wine. Wine barrel bungs keep the wine from spilling out, and they also protect the wine from outside contaminants.
Ace Seal manufactures the highest quality wine barrel bungs from 100% FDA grade silicone. They are designed with durability and longevity in mind, providing the ideal sealing for your applications. Contact us today for your custom wine barrel bung.
Ace Seal cuts numerous shaped flat gaskets in various thicknesses from Rubber sheet material. Rubber sheet material can be used as in a variety of industries including defense, electronics, and aerospace. It can withstand harsh environmental conditions, including high and low temperatures and pressure.
Rubber sheet stock from Ace Seal is available in a range of materials, sizes, hardnesses, and colors to meet your application specifications.
In addition to o-rings and other seals, we also offer a variety of sealing accessories to meet your application needs. We offer a variety of accessories for the sealing industry including measuring tools like cones and size charts, lubricants/grease, hylomar sealing compound, o-ring extraction tools and more.
Contact Ace Seal to Learn More about Our Seal and O-Ring Products
As a global O-ring manufacturer, Ace Seal provides the high-quality sealing products that your application requires. All of our products are designed to be durable and efficient, withstanding many demanding applications.
To learn more about our seal and O-ring products, contact us today.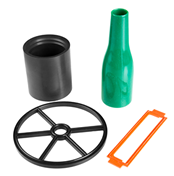 We stock a wide variety of seals that are available the same day
Contact an Expert